FX Million Indicator Revolutionary Forex Unlimited MT4
In Stock
Description
FX Million Indicator Description:
Don't want to spend time of your life learning VSA, Price Action, Candelstick Patterns? The FX MILLION indicator is the result of our team investing many years of their time and effort. It will allow you to make consistent profits, whether you are a beginner just making your feet wet in trading or a professional trader seeking more ways to improve your trading performance. So, we congratulate you on finding what you have been looking for! Your quest ends here!
The indicator will tell you the right time to open a trade BEFOREHAND and warn you about unreliable signals BEFOREHAND so that you have enough time to act accordingly. Also, the indicator will advise you on the best time frame with the biggest profit potential. And the best thing is, the FX MILLION indicator will work forever since it's based on fundamental market principles. I hope that my trading account validated with MyFxBook will help you make one of the smartest decisions in your entire life.
You will get a copy of the FX MILLION indicator for MetaTrader 4 (MT4), as well as a step-by-step guide on how to install and use the indicator. As a bonus, I'll tell you about the levels that work for each and every financial market and make it possible to utilize the indicator more efficiently. With the help of FX MILLION, you will be able to make smart trading decisions. On top of that, you will be able to easily adjust the indicator settings to make it seamlessly fit into your trading strategy and approach. However, please pay close attention to the fact that the indicator is designed to provide you with entry points. Exit points are approximate and redrawable, thus showing you potential exit points only.
Does all of that seem overwhelming? Would you rather outsource your investing routine? Well, that's possible, as well! Just submit your request through the contact form at the bottom of the page. Please keep in mind that this kind of investing starts from $10.000.
FEATURES
No repainting or lagging
Smart trading algorithm
Highly profitable signals
Built-in smart signal generator that performs hundreds of important calculations in the background
Profitable real-time buy & sell signals
Multiple trading styles
Reliable ENTRY signals, 100% no repaint
Gain confidence with every trade you make
Easy-to-use and customizable visual interface
You can use your own trading styles to suit your approach
Responsive 24/7 support. Our support team is there to help you!
Ideal for traders with any expertise level, new or experienced
100% plug and play, no learning, just hit the ground running
Identify trend reversals to limit losses and win more
Smart money management system protects your finances
Generates fast signals for maximum income
User-friendly visual interface
Supports any assets: currency pairs, cryptocurrencies, stocks, metals
Built-in alert feature, so you never miss an opportunity
FX Million Indicator Settings:
in pictures
FX Million Indicator Results:
This is my real money account. My trading results are verified with the help of a well-known and respected service named MyFxBook! My trading statement is worth more than a thousand words. Having studied it, you will get a solid understanding of what the FX MILLION indicator is capable of. In March, I opened a real trading account and deposited $10,000. The goal was to turn it into $1,000,000 by the end of the year.
Let's be honest, few traders can actually boast such outstanding performance when trading for real, unlike those fake millionaires showing off and telling you lies while driving a rented Lamborghini or sitting in a rented mansion…
If you really want to see how I honestly make money trading financial markets on a regular basis, click on this link. It will open my myfxbook.com account in a new window and show you everything you need to make sure I'm honest with you.
FX MILLIONLIVE PERFORMANCE
Verified by MyFxbook!
TOTAL PROFIT:  7525.21%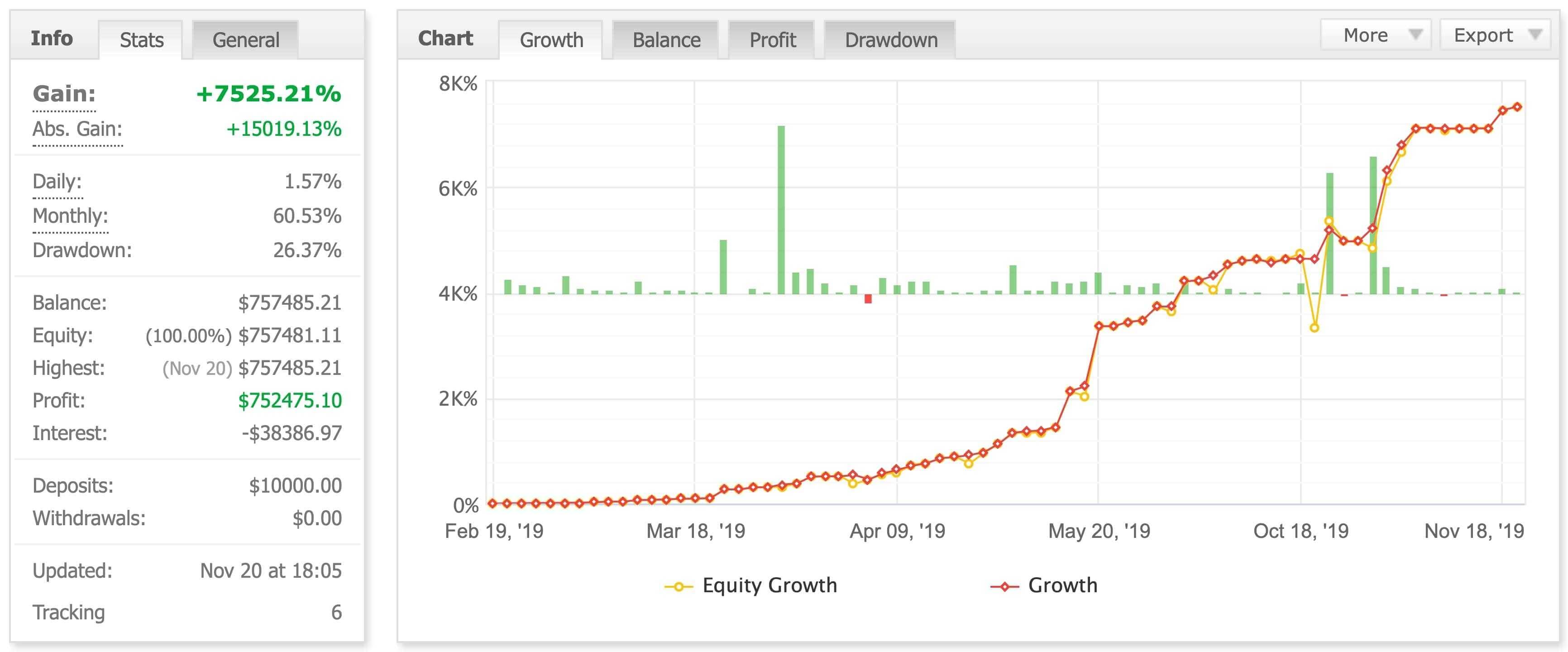 GOLD M15
531 PIPS profit in only 3 days
3414 PIPS of profit over the last 90 days
EURUSD M1
Would you like to capture all of the market movements?
You can use FX MILLION on the M1 time frame, as well!  24,582 PIPS over the last 90 days!
GBP/USD H1 5913 Pips in Just 4 Trading Days!
The Minimum Profit for the Last 90 Days: 24555 Pips